AVAILABLE NOW ONLINE + AT U.S. FLAGSHIPS
A COMPREHENSIVE GUIDE TO MEDICOM BE@BRICKS

AND WHY THEY MAKE THE PERFECT GIFT
Medicom Be@rbricks, often stylized as BE@RBRICK, are collectible toy figures created and produced by the Japanese company Medicom Toy Incorporated. The name "Be@rbrick" is a portmanteau of "bear" and "brick," reflecting the bear-shaped design of the figure and its block-like appearance.
Artistic Expression | Be@rbricks serve as a canvas for artistic expression, allowing creators to showcase their designs on a three-dimensional platform. The figures have become a popular medium for artists to convey their creativity and style.
Collectibility | Be@rbricks are highly collectible, and their limited edition releases contribute to their popularity among collectors worldwide. Some Be@rbricks become sought-after collector's items due to their rarity and the prominence of the collaborating artist or brand.
Design | Be@rbricks have a distinct bear-shaped design, characterized by a simple, geometric form with movable arms and legs. The figures are made of plastic and come in various sizes, with the most common being 100%, 400%, and 1000%, representing the scale of the original design.
Be@rbricks often explore various themes, including pop culture references, iconic characters from movies, comics, and music, as well as artistic and abstract designs.
Read below why they make the perfect gift.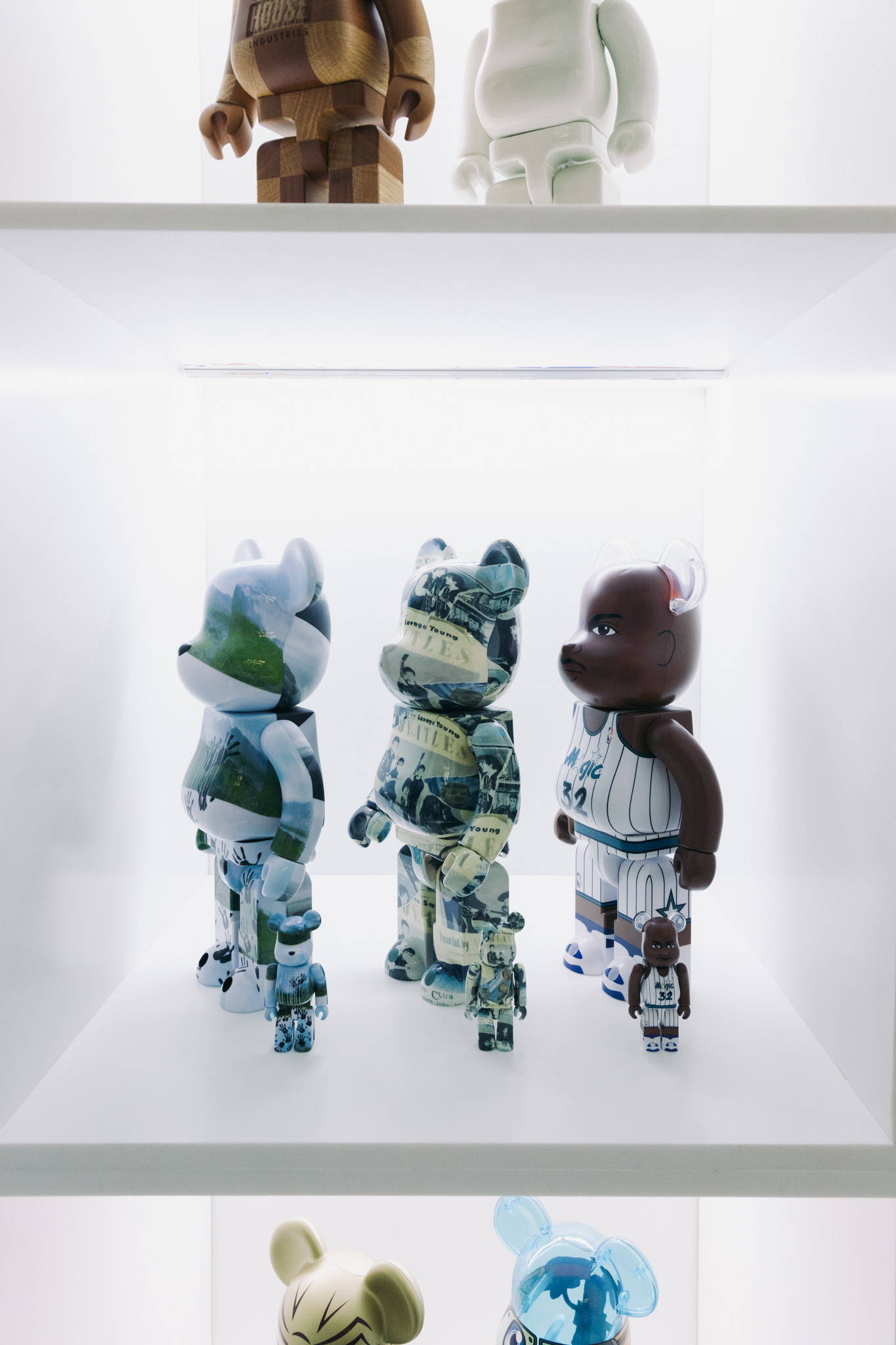 WHY THEY MAKE THE PERFECT GIFT
Versatility in Size: With various sizes available (100%, 400%, 1000%, etc.), you can choose a Be@rbrick that fits the occasion and the recipient's preferences. Smaller sizes can be desk decorations, while larger ones make a statement piece.

Personalization: Given the diverse themes and collaborations, you can personalize the gift based on the recipient's hobbies, favorite characters, or interests. This shows that you put thought into selecting a meaningful and relevant gift.

Global Appeal: Be@rbricks have a global fan base, making them a culturally relevant and appreciated gift. Regardless of the recipient's location, there's a good chance they are familiar with or collect Be@rbricks.

Display Value: Be@rbricks can be displayed on shelves, desks, or in collector's cases. Their display value makes them a gift that the recipient can showcase and enjoy regularly.

Conversation Starter: The uniqueness of Be@rbricks often makes them a conversation starter. Whether at home or in the office, they can be a focal point that sparks discussions about art, design, or the collaboration behind the figure.

Age Versatility: Be@rbricks are suitable for a wide range of ages. They can be appreciated by both children and adults, making them a versatile and age-appropriate gift.
Overall, the combination of iconic design, collectible nature, artistic expression, and personalization options makes Medicom Be@rbricks a thoughtful and delightful gift for various occasions.
For the: Art enthusiasts, collectors, fans of pop art and Andy Warhol.
For the: Lover of classics, movie enthusiasts, nostalgic adults.
For the: Fans of The Beatles, Elvis, and collectors of classic rock memorabili
For the: Fans of pop-culture